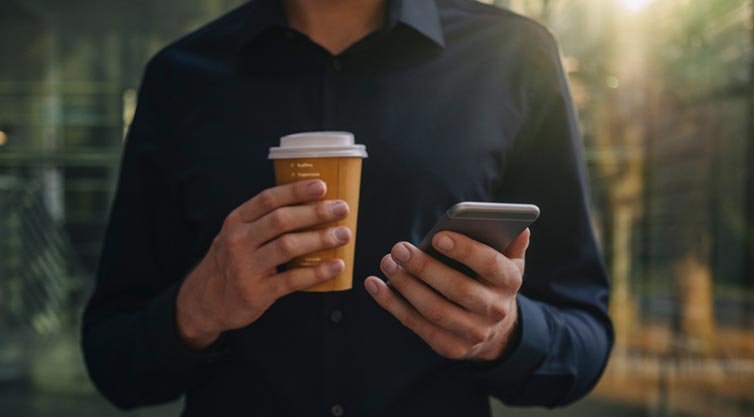 The future is calling…are you prepared to answer?
Once, the technology we carry around with us now and use regularly would have seemed like props fashioned for use within a space-themed television show, but in reality, if you don't already make or accept payments using a smartphone, it's likely you will soon. Welcome to a whole new world.
In 2015, mobile payments in the United States amounted to a mere $550 billion. According to Payment Week, a new report from Market Research Reports Search Engine predicts that number is expected to reach $2.8 trillion by 2020, "a compound annual growth rate of 39.1 percent." Payment Week also recently highlighted a new eMarketer study which predicts that by 2021, 72.9 percent of the ecommerce market [worldwide] will be mobile commerce.
To date, the pace of adoption of mobile payments has been slower than expected, at least in the minds of some, including Apple CEO Tim Cook, who, at a recent shareholder meeting, said that mobile payments have "taken off slower than I personally would have thought if you asked me sitting here a few years ago." But he added that he's seen "very rapid adoption" in the past year, and that "I'm still hoping that I'm still going to be alive to see the elimination of [cash] money."1
Would you like fries with that?
One sector in which mobile payments is making major inroads is the restaurant industry, especially the quick service restaurant (QSR) segment. The idea is to get customers to order food before they go to the restaurant, and pay for it without ever taking out a wallet or visiting a cash register. And some restaurants in varying cities don't even have a cashier, just food servers.
Burger King has reportedly been testing mobile payment technology in the Miami area since late last year, and plans a national rollout soon.2 Similarly, Chipotle's mobile app offers "quick reorder" functionality and streamlined payment options—it's loaded with the ability to tap into a user's mobile wallet.  For its part, Starbucks now has a store at its headquarters in Seattle that handles mobile orders exclusively.3
The rise of mobile payments—and mobile point-of-sale technology—has also benefitted food trucks, which speed service by allowing customers to pay by swiping, dipping or tapping.
Taking things a step further, the popular salad chain Sweetgreen has already chosen to go cashless, a decision that has yielded at least three advantages, according to co-CEO Jonathan Neman. There's safety advantages (less chance of a robbery), hygiene advantages (cash and coins are filthy), and the biggest advantage of all: faster transactions. That is, it's much easier to swipe or dip a card or pay via app than it is to make change.4
Notably, consumers are beginning to encounter more and more businesses that simply don't accept cash—as more and more shoppers ditch hard currency in favor of credit and debit cards.
Can you hear me now, Alexa?
Another trend that is perhaps best described as "coming soon," is voice commerce. According to IDC Futurescape's Worldwide Payment Strategies 2018 Predictions, "in 2018, more than $150 billion will be spent through IoT and Connected Devices," with 30 billion devices expected to be connected to the internet in the next two years. This led Payments Journal to remark that "2018 will bring a serious discussion on how merchants and their vendors will contend with new channels—voice-enabled commerce through in-home devices, chatbots initiating payments on social networks, and connected devices managing purchasing decisions and payments."5
"Voice is a natural way to communicate and it will become a very important part of commerce as we move forward," explains James Wester, research director for IDC, in the above-referenced article. "2018 will be the year we see voice commerce provide a seamless and easier way to make a payment," a trend that will dovetail nicely with the rise of voice-enabled search, which is being driven by the increasing popularity of so-called smart speakers like Amazon's Alexa. According to a recent report by Juniper Research, smart devices will be present in 55 percent of U.S. households by 2022.6
This explains why Business Insider (BI) recently described voice payments as "the next major interface for payments," noting that "8% of US respondents to a 2017 BI Intelligence survey said they used voice commands to buy something, send money to a friend, or pay a bill." Yet "adoption is set to grow from 8% to 31% of US adults by 2022," with three factors fueling the growth: "an explosion of voice-enabled devices, generational gains in AI [Artificial Intelligence], and a strong consumer value proposition for voice payments." If this seems hard to believe, keep in mind that "next generation voice assistants will blow the current generation away. Voice payments will evolve from clunky and poorly scripted sessions to interactions as natural as one might have with a personal shopper or bank employee."
Making Purchases with Bitcoin
Yet another area where we may see progress within this year is the ability to pay for goods and services using bitcoin and other cryptocurrencies. To date, bitcoin has proved less than easy to use for making retail purchases, thanks in part to lengthy processing times and significant security challenges. But solutions that allow a customer to pay with bitcoin without the retailer having to accept bitcoin could smooth the way to wider use in retail settings. Consider Flip, which has been described as "a device that uses near-field communications to effectively turn cryptocurrency into actual currency at retailers." It is tap-to-pay and works by "having the device store a pre-loaded quantity of US dollars, which are exchanged automatically from [an] existing cryptocurrency account. Rather than having the retailer accept bitcoin, the Flip system essentially handles a quick sale, transfers the quantity through the system, and pays off the merchant accordingly."
The future will be here before you know it. The question is…are you ready?
1CNET, Apple CEO Tim Cook dishes on taxes and the demise of money, https://www.cnet.com/news/apple-tim-cook-holds-shareholder-meeting-2018-apple-park-health-mobile-payments-taxes/
2 Bloomberg, Burger King Seeks Edge Over McDonald's in Mobile-Payment Battle, https://www.bloomberg.com/news/articles/2017-05-09/burger-king-seeks-edge-over-mcdonald-s-in-mobile-payment-battle
3 GeekWire, Starbucks to Open Dedicated Mobile Order-Ahead Store in HQ, https://www.geekwire.com/2017/starbucks-opens-dedicated-mobile-order-ahead-store-inside-hq-kevin-johnson-takes-ceo-reins/
4 Fortune, Why a Popular Salad Chain Stopped Using Cash, http://fortune.com/2017/09/14/sweetgreen-cashless/
5 Payment Week, Mobile Point of Sale Systems Provide Big Boosts to Food Trucks, https://paymentweek.com/2018-2-6-mobile-point-sale-systems-provide-big-boosts-food-trucks/
6 Payments Journal, Voice Commerce, Software Solutions Top Trends in 2018, Finds Market Spotlight, http://paymentsjournal.com/voice-commerce-software-solutions-top-trends-2018-finds-market-spotlight/